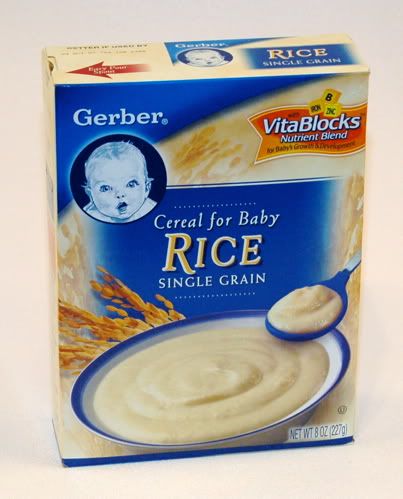 As many of you know by now, Dave and I are devoted bargain shoppers. We hit the jackpot with one of our recent finds. We found boxes of baby cereal for only 10¢ a box, and powdered, milk-based baby formula for only 50¢ a can! There was a great variety of the baby cereal, too . . . oatmeal, oatmeal with bananas, rice, and multi-grain. I really stocked up!
So what would we possibly want to do with all of this baby cereal and formula? There are oh, so many uses!!! Today, I will stick
mainly
with the baby cereal.
First, there are the cats. With business down to nearly nothing this winter, it has been a real struggle to keep all the little darlin's fed. With a little creativity, it can be done, and healthfully, too. I take an old large roasting pan and dump in one box of baby cereal. I then add a few scoops of the powdered baby formula on top (I do not recommend using the soy formula, as it sometimes makes them pretty sick, and you can't use the milk-based long term), a dribble of leftover meat drippings (if I have any, optional), add some water and stir until the right consistency for my cats' tastes. And VOILA!!! 10 very happy and satisfied cats for only 25¢!
One of my favorite uses for the oatmeal or the multi grain cereal is as a binder in Chili. When you are making a big pot of homemade chili, a little baby cereal can give the texture that something it seems to be missing. After you have cooked your chili as long as you want to, add in a sprinkle of baby cereal (I like oatmeal the best and a little will do ya), stir, and let it simmer just a few more minutes. If you don't think you have added enough, you can then add more, but start with just a
little
. The purpose is to enhance your chili, not make meaty baby cereal. It thickens the sauce/broth just a little, giving the chili some body, and binds all of the ingredients smoothly together.
I tried making some bread with some of the cereal and it turned out great! I replaced about 1/2 cup of the flour with 3/4 cup of the multi-grain baby cereal in my bread machine and it was wonderful! The outside of my loaf was a little crustier than usual, but it was golden and great with a pot of homemade soup.
Last night I made pancakes for dinner. I thinned my batter down just a little bit (just a LITTLE) and added in a good sprinkle of the oatmeal with bananas baby cereal. Then I stirred in some frozen blueberries and cooked as usual. That was so good that when I run out of baby cereal, I just may have to buy some more to make those pancakes again!
We would love to hear what your uses are for extra/leftover baby cereal!