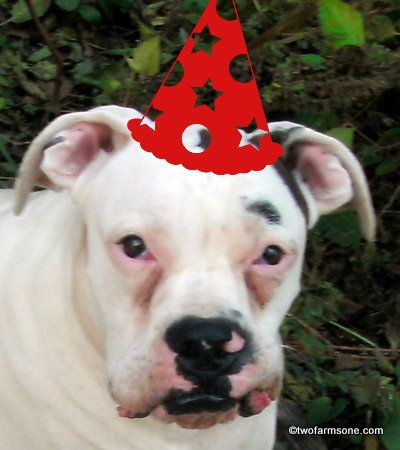 Can you believe it?! Bubba is a year old already! He has turned out to be such an amazing dog. And just the fact that he has turned out so big and sturdy is amazing in itself, since a strange, unknown virus had hit the entire litter (the day I had scheduled to give them their shots, no less) and he was one of the very few surviving puppies.At one point, it looked like there was no way he was going to pull through, but he is a fighter with devoted determination and he did it!
Contrary to popular belief, he has the keenest of hearing. He is even usually the FIRST one to hear the coyotes when they come up too close to the house. He is sweet, and gentle, and loving, but so ULTRA protective of me, the younger dogs, and everything on the place. He even seems to have an extra sense and knows instantly, when
strangers
come by, if they are good people or bad people, and I have come to truly value that opinion!
So tonight we are having a Surprise VIRTUAL birthday party for him over at
his blog
. Yes, he has his own blog! So come on over and join us if you like, and wish Bubba a happy birthday while you are at it. He would love the surprise. The party is
HERE
. See you there!