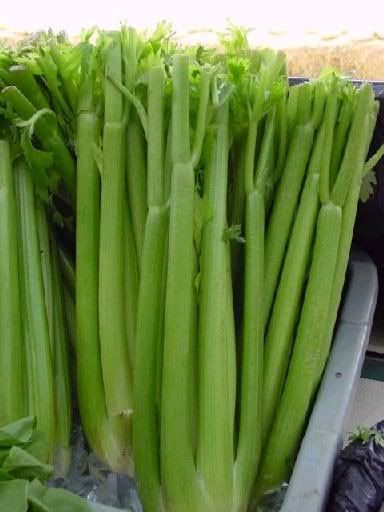 Celery... I use a LOT of it throughout the winter, but I grumble every time I have to buy it because it seems to just get higher and higher. Around Thanksgiving, everyone seems to have a great sale on it at unbelievably low prices. I even found it this year for only 49 cents! Sure wish I had remembered to go back and get some more.
But, as I am sure so many of you can relate to, you buy it, usually buy extra when it is on sale that cheap, but often times don't get it all used up before it goes bad, or have lots leftover from Thanksgiving because you over estimated how much you needed. Then the price goes back up and you kick yourself for letting it go bad and it wasted money. So... what to do?
I like to freeze some up when I find a super sale on fresh celery. And sometimes I just need one little stalk and won't need any more for awhile and will freeze it so the rest isn't wasted. I use it all winter long in soups, stews, casseroles, etc. And when I am in a hurry, it is so handy to have it already cut up and ready to drop in the cooking pot or suate pan!
Just chop it up into uniform-sized pieces, whatever size you like to use in your recipes, then place in ziplock bags in recipe-size portions. I like to use the Snack Size zipper bags, and a few sandwich size bags for larger recipes.
These don't have to be freezer bags.
Then place all of your smaller zipper bags into a LARGE,
freezer
, zipper bag and freeze all (
the large one does need to be a freezer bag
). This helps your celery to keep in the freezer much longer.
Buy buying this time of the year when you can get it on a Super Sale, and taking just a little time to put it up for your winter cooking, you can save a considerable amount of money over the course of the winter, not to mention chopping time later on, as it takes much less time to do it all at once than it does to drag out that chopping board and everything else to chop some up each and every time you are making a pot of soup, stew or casserole. Thank you for taking the time to read our money and time saving post!